HBF SUPPORTS LAUNCH OF STRONGFACE BOOK CLUB WITH AUTHOR KAREN QUINONES IN HARLEM'S DWYER CENTER

---

Dear Book Lovers & Words People,

The weekend of July 19 marks the 15th anniversary of the Harlem Book Fair and we are asking you to join us for a most signature event. Along with our outdoor celebration of books, authors, and exhibitors, our author main stage, indoor author panel discussions, readings and workshops will offer surprising and engaging entertainment for every type of booklover. Under the banner of New Voices, New Vision, we will celebrate theater, books to film, e-book authors and e-book workshops (I know you like to turn that page but trust when I say e-readers are seductive and here to stay. I have 5 two-hundred page books by my bed waiting to be read! How many do you have???) We can talk about it at the Harlem Book Fair.

Leading up to the book fair are the Friday night Wheatley Book Awards at the Schomburg Center for Research in Black Culture. Featuring the music of Atiba Wilson and the Befo Quotet, and the Harlem Book Fair Poets of the Dispossessed, the Grammy Awards will have nothing on this event. You can preview our awards nominees now (or nominate your own) at the Wheatley Awards Nominations page.

Here is your link to your reservation to the 2013 Wheatley Book Awards Program. Reserve seats now or forever hold your peace (I had to look that one up.)

Does it sound like I am having fun? Does it sound like I am excited by the 15th Anniversary celebration of the Harlem Book Fair? I am. And check out our hotel discounts from Aloft Harlem and Marriott Hotel partners! Books, Film, Theater, E-Books, Music, Poetry, Food, and Awards? File this one under Too Good to Miss.

Here is your link to your HBF 2013 Exhibitor Application. A whole bunch of somebodies are going to want to buy your book!

Please set your calendars and pass the Word! Words People, this is our event and we are going to fill the house! See you in July!

To the Lover in Us All...,

Max Rodriguez
Founder, Harlem Book Fair

This from Caprice Corbett, founder of the Harlem-based Strongface Book Club, a book club the HBF supports:

I decided to launch The Strongface Book Club in Harlem as a result of my postings on Facebook, as well as conversations with many people offline about how we should get together somewhere other than a night club to talk and share ideas about something other than our lives. Book clubs existed in the 90s and somehow we all got busy and this feels like a good time to start one again.

So, on Saturday, February 23, 2013 from 5:30 PM - 8:00 PM in Harlem the Strongface Book Club will have our FIRST meeting at The Dwyer Cultural Center located at 258 St. Nicholas Avenue (Entrance on 123rd Street Between St. Nicholas and Eighth Avenues) - Contribution is $5.00.

The greatest thing about our first meeting is that author Karen E. Quinones Miller has agreed to join us! An Angry-Ass Black Woman is Karen's first book in four years and she is thrilled to be coming back home to Harlem to share her story, her journey, where she is now, what she is doing and what is coming next. Join us in our support of the Harlem Book Fair! See details below...


---

WHERE TO STAY.

Will Your Harlem Book Fair Weekend be a Harlem experience or a New York City experience? Enjoy either with a Harlem Book Fair Hospitality discount provided by our HBF Hospitality Partners! Visit www.harlembookfair.com to explore your options and reserve a room! Or click below!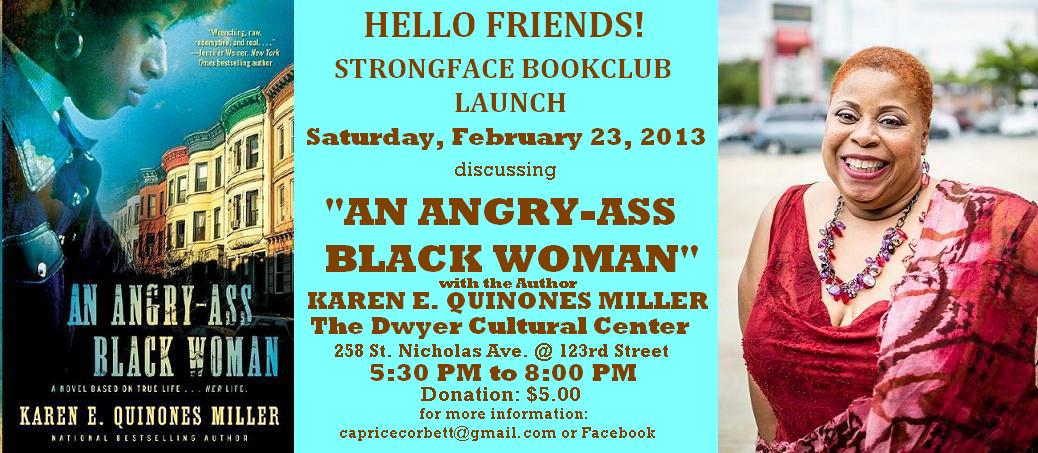 HARLEM BOOK FAIR COMMUNITY PARTNERS